Get a Quote
Neuromorphic Computing and Manufacturing Future Technologies at CST
"Neuromorphic computing is a complete rethinking of computer architecture from the bottom up. The goal is to apply the latest insights from neuroscience to create chips that function less like traditional computers and more like the human brain. Neuromorphic systems replicate the way neurons are organized, communicate, and learn at the hardware level. Intel sees its Loihi research chip and future neuromorphic processors defining a new model of programmable computing to serve the world's rising demand for pervasive, intelligent devices," according to the Intel Neuromorphic Computing Test Kit. Manufacturing complex AI systems requires a company like Cascade Systems Technology with the right equipment, processes, and an experienced team to deliver complex assemblies with high quality.
Enter Neuromorphic Computing
The neuromorphic computing model learns from different situations and stimuli to deal with unique situations, ambiguity, and contradictions that exist in the natural world. To meet the need for this type of AI processing capability, Intel Labs developed the Loihi chip. This chip is similar to a brain's neuron which can work independently in a group of similar networked chips. Loihi chips can process certain demanding workloads up to 1,000 times faster–and 10,000 times more efficiently–than conventional processors. These chips do this by "firing" pulsed signals containing information that directly impacts how other chips in the network respond and thus learning from these activities allowing the network to become smarter over time all while using a fraction of the power necessary for other more conventional processors.
This unique processor implements a programmable learning architecture supporting a wide range of neuroplasticity mechanisms under study at the forefront of computational neuroscience.  These features are expected to provide systems with the ability to integrate and respond to real-world information received continuously over time and to intelligently adapt their behavior in order to satisfy functional objectives, similar to the operation of the brains of organisms found in nature.
Nahuku Boards and Neuromorphic Systems
Nahuku boards hold up to 32 separate Loihi chips mounted on a printed circuit board assembly which are then combined with several additional Nahuku boards to create a neuromorphic system—named Pohoiki Springs the latest and most powerful neuromorphic computing system to date which has the capability of 100 million neurons.
Video: Intel Labs Advances Neuromorphic Computing Research (B-Roll)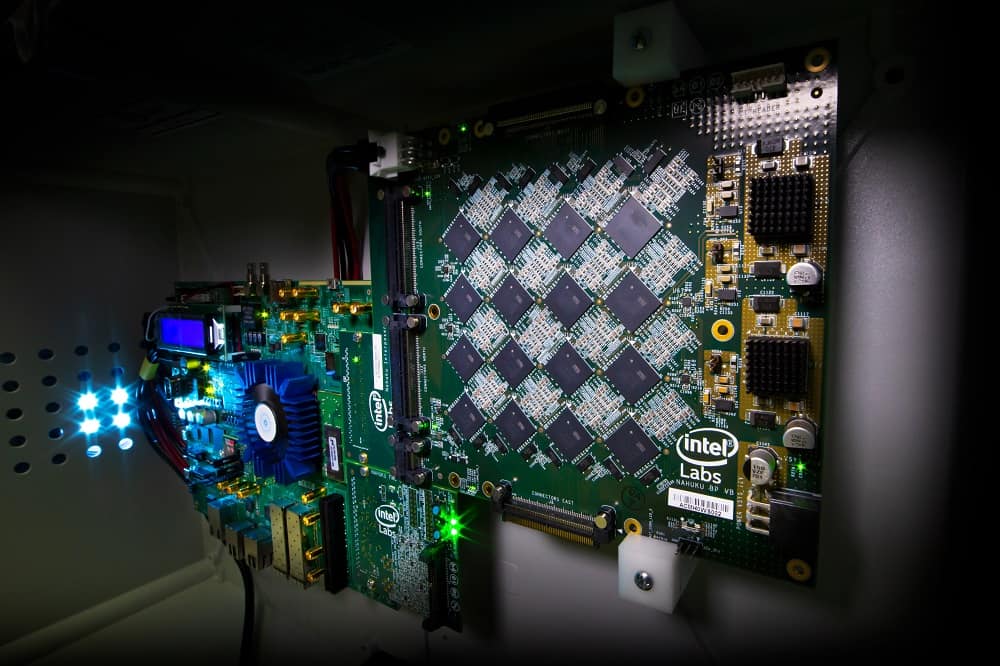 PCBA Needs for Neuromorphic Systems
The growth in AI specifically for products in the IoT, has made neuromorphic system research a priority at Intel. Applying Loihi chips on printed circuit board assemblies can be a challenge because of the numerous connections between the chips and the Nahuku boards. "These PCBAs require small pitches, must support many BGAs and the manufacturing process has to be carefully profiled across several metrics to ensure high quality. This ensures delivery of a fully functional PCBAs as a critical component into the creation of these AI projects," says Shantanu R. Gupta, CEO of Cascade Systems Technology. And a company like Cascade Systems Technology has the right equipment, processes, and a team with deep experience to deliver complex assemblies to meet specific requirements of Intel's neuromorphic systems.
Cascade Systems is the Premier PCBA Electronic Contract Manufacturer
We can handle a wide variety of complex PCBA builds that meet the rigorous requirements of companies like Intel. We are ready to build your complex AI PCBA assemblies. For more information, give us a call at (503) 640-5733, complete a simple online contact form, or email us at info@cascadesystems.net.
Any views or opinions represented in this blog are personal and belong solely to the blog owner and do not represent those of people, institutions or organizations that the owner may or may not be associated with in professional or personal capacity unless explicitly stated.
Are You Ready to Get Started?
We have a team of customer service experts ready to assist you today!