Get a Quote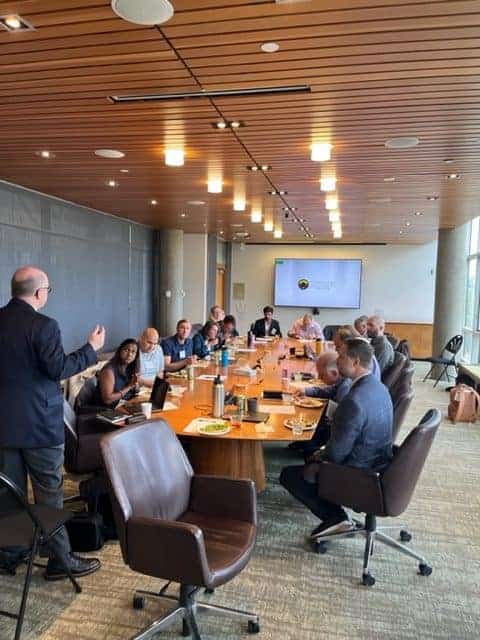 For fans of American competitiveness, recent UO and TAO investments are putting us ahead of the game
Recently, I was honored to be invited by Skip Newberry, CEO of the Technology Association of Oregon (TAO) to a two-day event in Eugene, OR celebrating recent and upcoming major investments in technology being made at the University of Oregon (UO). Hosted by TAO and the brainchild of Sally Bell, Executive VP at TAO,  the gathering resonated with a topic I touched upon in several recent CST blog posts — namely the importance of private, public, and educational investment in American technology and innovation in order to maintain U.S. competitiveness, retain global technology leadership, and offer compelling and remunerative career opportunities to our best and brightest young people.
Not by coincidence, and happily, the event also echoed developments and news on this same front arising from the tech sector (here's an example on the semiconductor front from Intel) and from Washington, DC, including massive Federal investments in re-onshoring semiconductor capabilities; strategic efforts to curtail access by China and Russia to our most advanced, U.S.-borne chip technology that pose serious risks to national security here at home and among fragile democracies globally; and billions of dollars recently made available to companies developing battery, fuel cell, and adjacent technologies that will both help power future EV fleets and help America meet its aggressive emissions and global-warming mitigation goals.
Highlights of the event included a tour of UO's new Phil and Penny Knight Campus for Accelerating Scientific Impact, a happy hour co-sponsored by Onward Eugene and Oregon Bioscience Association, and a terrific tailgate party ahead of a Ducks-Stanford football game (Go Ducks!). For me sporting event at hand served as a fitting metaphor: In the technology field – as on the gridiron — it will take a winning strategy, profound talent, and just the sort of investment UO is making in technology if we are to be "ahead of the game" worldwide. (BTW, the Ducks prevailed in the game: 45 to 27!)
So, what exactly is UO up to on these fronts and, as such, walking the talk of needed tech investment?
According to Sally Bell, "UO's recent investments are foundational in knitting together the innovation silos across the state. The scope and importance for the expansion of facilities and programs will be an enormous lever for the tech ecosystem for recruitment of top talent, commercialization of new technologies and continued differentiation for Oregon's economic resilience."
Just three examples:
A new UO campus situated in metropolitan Portland focused on experiential and tech-centric learning opportunities, networking, and internships throughout the region. Highlights will include a virtual- and augmented reality lab, PDX fabrication lab, and labs for sports product development and management.
The Phil and Penny Knight Campus for Accelerating Scientific Impact, opened in 2019, whose mission focuses on "training new generations of scientists, forging tighter ties with industry and entrepreneurs, and creating new opportunities for graduate and undergraduate students." Among enumerable resources at the new campus is the Knight Campus Innovation Center, offering leasable labs and offices for startup companies and creating a unique blend of engineering, applied sciences, and business innovation.  Just one for instance among many. According to Knight Campus Executive Director, Robert Guldberg, a pilot startup venture program has already yielded three startup companies that are moving new technologies to market. (You can read more updates from Robert on the impressive and fast-accumulating successes emerging from the campus.)
Integration with regional technology industries – UO has been making significant, ongoing investments in outreach to, and collaboration with, tech-industry players in Portland and points beyond across Oregon. From stepping up both the volume and quality of student-centric opportunities like hands-on internships and co-ops; to direct involvement of corporate management and engineering professionals in the university's academic programming, syllabus development, and collaborative research; to forging advisory relationships that inform UO's future tech planning — my own attendance at the tech/Ducks weekend is an instance of this – the University of Oregon is really undergoing a sea-change in this area and fast becoming a force for tech innovation in the Pacific Northwest and nationally.
There are many other examples and initiatives I could point to at UO (e.g., climbing enrollment, recent hires, very promising graduation stats to report already), but my larger point is that these are precisely the kinds of investments of capital, talent, and infrastructure that I've been promoting as being necessary to retaining, and indeed expanding America's stature as a technology leader.
They also add to the portfolio of case studies in which TAO, itself, has helped to catalyze regional innovation over the last few years despite – and these being accomplished despite significant economic and supply chain issues arising from the pandemic.
Again, I'll let Sally chime in: "There are four great examples of public/industry/education partnerships that TAO is convening and leading to build an environment for innovation in Oregon.
First, in June 2022, TAO hosted a Commerce Chain Summit which brought together thought-leaders from throughout the Pacific Northwest and beyond to discuss how best to strengthen our physical, digital and human infrastructure to ensure that businesses, residents and our natural environment benefit from a secure, resilient, and agile commerce chain.
Next, Smart and Connected Cities remains a top priority for our region and TAO hosted a three-part series in 2022, focused on cleantech innovation and investment, smart city technologies, cybersecurity, and the digital divide.
Third, the historic amount of Federal and State funds for economic recovery and innovation has given rise to TAOs involvement in a wide variety of cross-sector proposals and efforts underway for agricultural technology, cybersecurity, bio- and life- science, centers of innovation excellence and research. This collaborative approach for seeking investment is critical to Oregon's success in this competitive landscape.
And last but not least, TAO is poised to facilitate Future Ready Oregon's investment in workforce development through an industry-led process to work in lock step with education partners and workforce boards to bring a new era of tech upskilling to the state."
If, as I stated at the onset, the goal is stay "ahead of the game" by investing in American competitiveness – seems to me we have a winning team and game plan here in Oregon!
–  Shantanu R. Gupta,
CEO, Cascade Systems Technology
Are You Ready to Get Started?
We have a team of customer service experts ready to assist you today!